Advent Pioneer Books
P. O. Box 981
McMinnville, TN 37111
Phone: (931) 314-9258


Life Incidents, by James Springer White
Life Incidents MP3 CDs (2 mp3 CDs) $19.89

Purchase Life Incidents Download for only $14.99
( 737MB Download with music or 702MB without music, 128 kbps bitrate, Stereo,
No CD
)

NEW!! Life Incidents, by James Springer White

(Audio Total Run Time: 14:24:50)

This audio book is an autobiography of the author and also tells the story and early beliefs of the believers in the Second Advent, or coming, of Jesus Christ in the clouds of heaven in 1844. It clearly explains the disappointment of these believers and gives hope for today in the 21st century for those of us who are still waiting for the soon return of our Lord and Savior, Jesus Christ.
White, James Springer (1821-1881). Preacher, author, editor, publisher, administrator. White was born in Maine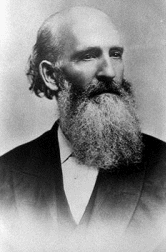 to descendents of Mayflower passengers. He suffered health and learning problems as a child. His formal education of less than 12 months did not prevent him from obtaining a teaching certificate and teaching elementary school for a short time. The family belonged to the Christian Connexion, the first indigenous American religious movement. White was baptized at age 16 and in 1843 was ordained as a minister. Mostly due to his mother's influence White seriously evaluated and accepted the Millerite message of Christ's soon return, and became a Millerite preacher, leading some 1000 persons to conversion.

The passing of the time in October 1844 sorely tested White's faith, be he remained an Adventist. Some time after Ellen Harmon's vision in December showing God's leading the Advent Movement, James became associated with her and another lady traveling to relate Ellen's visions. Propriety indicated that he should not travel with a single woman, and being impressed with her piety and convinced of her prophetic gift, he decided God wished them to marry, which they did August 1846. That fall they began keeping the Sabbath that Joseph Bates had shared with them earlier in the year. They were very poor with no home of their own, but continued to travel and speak, James supporting her prophetic mission, printing her messages, and doing manual labor to earn a little to support them. The first publication, To the Remnant Scattered Abroad, was printed the year they married.

In 1848 conferences were held that gathered Sabbatarian Adventist to explore and develop a unity of belief. In response to a vision of Ellen at one of these conferences, James began regular publishing in 1849 of a periodical which became the Review and Herald. After using the services of various printers, the believers voted in 1852 to purchase a printing press, which was set up at Rochester, New York, moving in 1855 to Battle Creek, Michigan. This publishing work flourished, and led to the first formal organization among the Sabbatarian Adventists, the Advent Review Publishing Association in 1860. Publishing would be James' major focus the rest of his life. The organization of local churches into conferences, and conferences into the General Conference followed quickly.

James White served a total of 10 years as president of the GC at various times. His vision and executive abilities would drive him to overwork, and in 1865 he suffered the first of several strokes that would affect his health and effectiveness the rest of his life. He and Ellen traveled to California not long after the rail link was completed, and in the 1870s he established the Pacific Press to publish on the West Coast. He was active in the establishment of Battle Creek College in the 1870s as well. He invested tens of thousands of his own money in building up the church's institutions. Ellen frequently urged him to find others to lighten his work load, but he found it hard to delegate and to find men who could do the job. Shortly before his death August 1881 he seemed to foresee the turbulence and needs of the coming decade when he stated, "I feel assured there is a crisis before us. We should preserve our physical and mental powers for future service. The glorious subject of Redemption should long ago have been more fully presented to the people..." (PH168 54.2).
TABLE OF CONTENTS
PREFACE Listen to this Chapter Free!!!
Chapter 1: ANCESTRY AND EARLY LIFE Listen to this Chapter Free!!!
Chapter 2: CHRISTIAN EXPERIENCE Listen to this Chapter Free!!!
Chapter 3: IMPRESSIONS OF DUTY
Chapter 4: WILLIAM MILLER
Chapter 5: WILLIAM MILLER: HIS VIEWS OF PROPHECY
Chapter 6: DANIEL, CHAPTER II
Chapter 7: DANIEL, CHAPTER VII
Chapter 8: DANIEL, CHAPTER VIII
Chapter 9: THE 2300 DAYS
Chapter 10: HIS PUBLIC LABORS
Chapter 11: CONVERSION OF ONE HUNDRED INFIDELS
Chapter 12: MILLER AND THE PROPHECIES
Chapter 13: MY PUBLIC LABORS
Chapter 14: RISE AND PROGRESS OF ADVENTISM
Chapter 15: THE SIGNS OF THE TIMES
Chapter 16: UNITED EFFORT
Chapter 17: CAMP-MEETING ERA
Chapter 18: THE GREAT TENT
Chapter 19: THE MIDNIGHT CRY
Chapter 20: MR. MILLER'S VISIT TO WASHINGTON
Chapter 21: THE TERMINATION OF THE PROPHETIC TIMES
Chapter 22: MODES OF OPPOSITION
Chapter 23: EXTENT OF THE WORK
Chapter 24: ADVENT BOOKS
Chapter 25: LECTURERS AND WRITERS
Chapter 26: WHAT ADVENTISM HAS ACCOMPLISHED
Chapter 27: PERMANENCY OF THE WORK
Chapter 28: THE EXETER, N.H., CAMP MEETING
Chapter 29: CHARACTER OF THE WORK
Chapter 30: THE PASSING OF THE TIME
Chapter 31: ARGUMENT FROM THE TYPES
Chapter 32: THE SEVENTH ANGEL
Chapter 33: THE FIRST MESSAGE
Chapter 34: THE SECOND MESSAGE
Chapter 35: THE THIRD MESSAGE Listen to this Chapter Free!!!
Chapter 36: RISE AND PROGRESS THE THIRD MESSAGE
Chapter 37: INTRODUCTION OF THE SABBATH
Chapter 38: FIRST CONFERENCE OF BELIEVERS
Chapter 39: MRS. WHITE'S EXPERIENCE Listen to this Chapter Free!!!
Chapter 40: SECOND GENERAL CONFERENCE
Chapter 41: THE OPPOSITION
Chapter 42: A PAPER STARTED
Chapter 43: THE REVIEW AND HERALD
Chapter 44: PURIFYING PROCESS
Chapter 45: TENT MEETINGS
Chapter 46: REMOVAL TO MICHIGAN
Chapter 47: POWER PRESS
Chapter 48: PUBLISHING ASSOCIATION
Chapter 49: ORGANIZATION
Chapter 50: SYSTEMATIC BENEVOLENCE
Chapter 51: GLANCE AT THE PAST
Chapter 52: THE TONGUE OF SLANDER
Chapter 53: PRESENT POSITION AND WORK
Chapter 54: THE LAW AND THE GOSPEL Listen to this Chapter Free!!!
Chapter 55: GOD'S MEMORIAL Listen to this Chapter Free!!!

Read the Text for Free Here